Communities across the United Kingdom supporting the British Armed Forces
Where displayed the Heroes Welcome logo shows support for British Armed Forces Personnel and indicates a warm welcome, service up grade, special acknowledgement or even a little discount as appropriate.
The Towns, Cities and Counties listed below, and shown on the map, have an active Heroes Welcome Scheme in operation.
National Armed Forces Day, Guildford.
Click for more information.
Additional businesses supporting the scheme can be viewed by clicking this link.
Please click on the map on the right or select a town from the drop down list.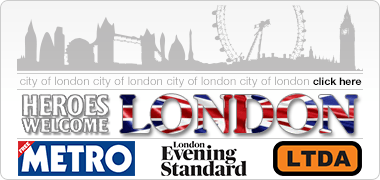 A video of Roger Moore reciting 'Tommy Atkins' by Rudyard Kipling which highlights the reasons for Heroes Welcome.
"Every repatriation of a fallen Serviceman or woman is a sad occasion. The people of Wootton Bassett will always show their respects to mark the bravery of these fine young people."
A message to Heroes Welcome UK from the Mayor of Royal Wootton Bassett, Councillor Mary Champion